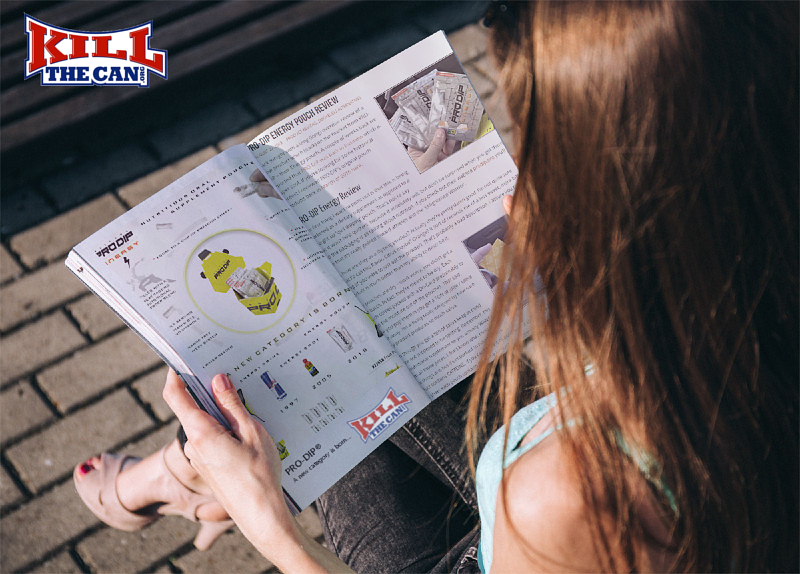 PRO-DIP
®

 Energy Pouch Review

Back tonight with a long (long) overdue review of a new product which (back) on the market from PRO-DIP® – their Energy pouch. A couple of weeks back we reported that PRO-DIP was back in business which is super cool. If you're looking for some historical context I reviewed PRO-DIP's original pouch products back in March of 2016 here.

The first thing I want to point out is that this is being marketed as a dietary supplement as opposed to a straight up 'quit dipping' pouch. That's not to say that it won't help quitters, because it absolutely will, but don't be surprised when you get them and the packaging is all talking about nutrition. If you check out their website prodip.pro you'll see that it's really geared toward athletes and the 'Enlightened Warrior'.

So, how are they as a dipping product? Actually they're pretty damn good. I'm not quite sure what I'd call this flavor. Citrus maybe? Orange? It sort of reminds me of a less sweet, more bitter Tang (if you were to just eat the powder). That's probably a bad description. I assure you the product is much better than my ability to describe it. 
The pouches are dry – don't worry, you didn't get a bad batch. In fact, they're meant to be dry. Each pouch comes packed with a Dri-Card presumably to keep the moisture out of the pouches. That said, once you pop them in you get a TON of juice / saliva right away. I'm actually really intrigued by how such a dry product produces so much saliva.
Even though you get a ton of saliva keep in mind you're not supposed to be spitting. Remember, this is a nutritional supplement so you actually WANT to retain all those juices. I don't know what most of these things are, but it's important to note that this product contains CAFFEINE. If you can't have it or don't want it stay away. Per their supplement facts sheet each pouch contains the same amount of caffeine as a cup of coffee.
That pouches last quite a long time, upwards of 30 minutes. I always test with two for maximum flavor and there's plenty of it here. Not what I'd call a traditional tobacco flavor by any stretch but a really enjoyable flavor nonetheless. If you're looking for something a little different that will give you an energy boost this is a strong recommend.
Final Thoughts
PRO-DIP® is a great entry into the world of smokeless alternatives, especially if you're looking for something outside the traditional tobacco flavors. If you're looking for those (wintergreen, mint, straight) you're not going to find it here, but what you do get is a product that provides a caffeine boost in a great citrus flavor.
Keep in mind these are actually nutritional supplements which means you're SUPPOSED to swallow your saliva to get the benefits.
You can get PRO-DIP from their website at www.pro-dip.com or on Amazon. Special thanks to Peter St. Lawrence at PRO-DIP® for providing me samples to try and review.
Disclaimer: In accordance with FTC Guidelines, we hereby inform this site's viewers that we occasionally receive products for review purposes. At no time has payment has been made in order to elicit positive reviews. Affiliate links may be present in the above content. Read our disclosure policy for more info.